December 31, 2017 - Tinytouchtales
Welcome to another episode of my End of the Year posts. In quick preparation for this post i've been reading through my End of the Year – 2015 post. At the very end i wrote "In conclusion 2015 was the best year so far and i can only hope that 2016 will be a tiny bit like it." To answer that question: well i have no idea what happened in 2016 but boiii, 2017 could be the peak already!
Card Thief
On the 19th of March almost two years after Card Crawl, we finally release our follow up Card Thief. Card Thief took us way too long to develop since we still were pushing content updates for Card Crawl and i release ENYO in September 2017 as a small side project. Mexer as well as Oliver both always have several other jobs and so the whole developement was spread out quite a bit with a few longer pauses in between. The initial prototype of Card Thief was created on the 25th of August 2015.
We were quite lucky that Apple asked us if we would like to join the Celebrating Indie Games feature. This could secure us an extremly prominent featuring spot through all of the App Store and made Card Thief peak at #8 of the US paid charts. It was an incredible week for us that will be truly hard to replicate in the future. I made a very detailed post First week of Card Thief where you can read the whole story.
In September we released a big content update for Card Thief which added the Hideout were you can play as 10 new thieves each with a unique new rule to the basic gameplay. The update was well received but didn't help with the monetization part of the game.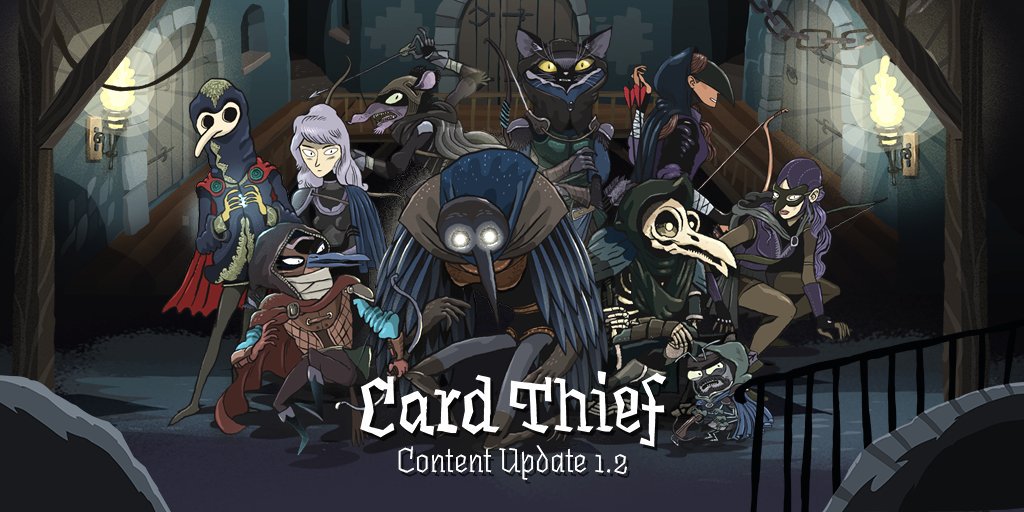 In the beginning of December Card Thief won the German Developer Award for best game design. I wrote another short post about it here. I couldn't make it to the award ceremony itself so Mexer and Oliver had to improvise.
Card Thief was a very successful project in the end. I think we could deliver what we had promised: a worthy follow up to Card Crawl that is something new but more of the same. Apple and Google showed a lot of love for the game as well and pushed us a lot through out the year.
Miracle Merchant
Miracle Merchant was a strange one. It's roots date back even further than Card Thief's and this is why it's actually more similar to Card Crawl in it's base design then Card Thief. It started out as a pitch for Nickelodeon and ended up as a small side project inbetween Card Thief and other stuff. I could convince Thomas Wellmann and Craig Barnes (who did music for ENYO) to join me on this deliberatly small project, which i never intended to get that much of attention.
We release Miracle Merchant in the beginning of August on both iOS and Android. Again i always planned the game as a small basic concept that offers a few interesting ideas such as a randomly generated deck of cards and a few interesting design choices. In comparison to Card Crawl and Card Thief it's really small and does not have a lot "todo". This is why i planned on not making too much noise about it, but Apple really seemed to like the game and with a bit of luck and not to much competition in the release week we could secured another #1 featuring spot on the US App Store and several other stores as well.
Miracle Merchant was another surprisingly successful game. Which could further position me as "the solitaire card game guy" which is cool, but might get problematic in the future. I still want to release non card games but somehow this niche has worked for us incredibly well so far.
The editorial team at Goole Play like the game so much that we got nomiated in the Google Play Awards as one of the coolest indie games of 2017, which was another nice boost for us.
Other Games
In addition to the two big releases i also made a small content update for my 2016 roguelike ENYO. We added a new mode and 3 new enemies to spice up the gameplay a bit. I really enjoyed working on the game again since it's so easy to add cool new stuff to it.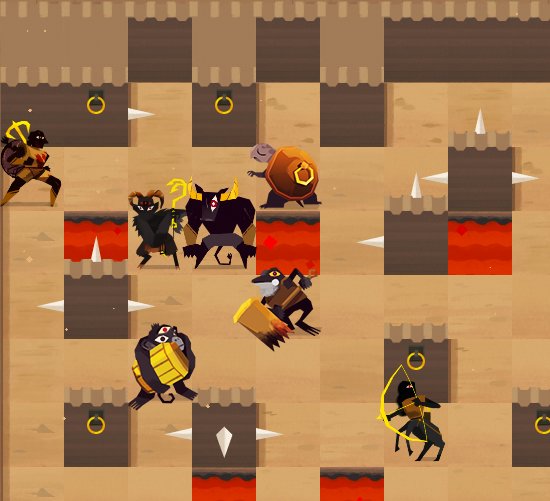 In March i participated in the 7 Day Roguelike Challenge after i made ENYO out of my 2016 7DRL Hook & Shield. This time i collaborated with ye olde Mexer and made a small Threes/Imbroglio hybrid called King of Nothing. The game is playable in your browser on my Itch.io page. I'm still interested in revisiting this concept to see if it could be further expanded into a full game. This is definitely on my 2018 prototype list.
In other prototype news i also made two attempts in creating a card based city builder. Both approaches failed. I did a pretty detailed documentation on the second attemp which you can check out here: Failed Prototype – Hex Harvest.
The last project for this year was and still is the Steam Desktop port for Card Crawl. Mexer and i sat down again and polished the game and it's UI a lot. I'm really curious how the port will be received since mobile games coming to Steam have a weird history of hate and intolerance. Luckily with green light gone we can just put it out there and see if a few people are interested. I still love Card Crawl so much and it was pure joy to revisit the game (not the code itself *shiversinhorror*) and redo a lot of the menus and add cool stuff to the tavern. Make sure to wishlist Card Crawl on Steam!
Revenue
I know you are only here for this and i can't complain. I've been super open about my financials from the beginning because i always thought other dev's would profit (haha) from being able to estimate revenues for other games and see what works and what doesn't. It feels like bragging at this point, because my games sell so well and i'm super lucky that i've been able to maintain a steady livable income since 2015, but you should also check out this post from 2013 when i openly talked about my failure with Zuki's Quest.
What can i tell you about my games revenue in 2017. Card Crawl is still the biggest surprise, it generates so much stable money even in it's 3rd year. It's the game that made my whole "career" possible and i'm eternally thankful and proud.
Card Thief was big, like really big. Apple and Google pushed the game tremendously despite it's high barrier to entry and it's complex rules. People bought into the Thief fantasy and that's why it's selling like hot cake as well.
Miracle Merchant was the surprise hit this year. As stated i wasn't convinced it could offer enough meaty gameplay to reach a lot of players, but Thomas fantastic art and Craig's wonderfull sound and music could generate a lot of new fans which were ready to throw the monies at their phones.
Each new release also pushed the other games which is fantastic if you have 3 card games going. A new player can play one and immediately buy the other two with new and different gameplay. This way Card Thief pushed Card Crawl, Miracle Merchant pushed Card Thief and Card Crawl pushed itself.
As you can see Card Thief made about $130000, Miracle Merchant about $80000 and Card Crawl about $69000. There are a few thousand $ extra from Ads that we show in Card Thief and Miracle Merchant, but the biggest revenue drivers are still premium purchases. All my iOS games are paid and the android versions are free with an one time iAp for unlocking the game. ENYO made a few $ too so thanks for everyone buying it as well.
Again i'm absolutely overwhelmed by the amount of money we could make from our games this year and i'm pretty sure that 2017 was the peak. The good thing is that Card Crawl shows how long the tail of a good game can be and we should be able to sustain quite a bit of revenue from Card Thief and Miracle Merchant next year as well. Again thanks to all of you for supporting me with your hard earned cash, i will put it to good use and bring you more quality games in the future, so keep an eye out!
Conclusion
2017 was a fantastic year for me personally. I know that for a lot of people 2017 was maybe the worst year globally speaking but one can only fight on so many fronts and i try to be the best human i can be in 2018 as well.
A few quick notes to finish this post:
1) Player Unknown's Battleground is my GOTY and my GOTD (Decade). This game has single handedly brought back my enthusiasm for gaming that i had lost for quite some time. It's absolutely incredible and made me a "real gamer again". I bought a gaming laptop, keyboard, headset, mouse mat, external coolers for my laptop and played around 600h of PUBG since July. Please play this game if you like FPS.
2) I still freaking love Hearthstone. I mainly play the tavern Brawls and am now 3 wins into the Dungeon Run mode, which absolutely destroys me every time. It's such a cool take on the game and i'm super interested in how the design of this mode has created a whole different new game.
3) I played a whole lot of Camel Up with the family over the holidays, fantastic board game. Make sure to check out it's stacking mechanic, which is quite brilliant.
4) For 2018 i want to get into prototyping and also documenting the design process again. I might check out Patreon as a possible way to document stuff for people who are really interest.
5) Card Crawl Desktop Beta will open soon™.
6) I have a really interesting project coming up in March.
Thanks again for all your support this year and i hope all of you will have a great 2018. See you soon!